Related: Carnival 2021: Giving Mission
A Reimagined Carnival in 2021
This year's Carnival theme, "A Carnival Out of This World," speaks to the unique nature of our times, as our student leaders from the Class of 2022 have reimagined Carnival during a pandemic while staying true to the traditions. While there is no public event as in previous years, the students and parent volunteers have come up with an exciting array of activities and events for the Punahou community to enjoy, while maintaining the health and safety of our community. Here's an overview of the creative ways each Carnival booth has adjusted for this year's Carnival, which takes place Feb. 5 and 6, and the student and parent volunteers making it happen. Visit punahoucarnival.com for more.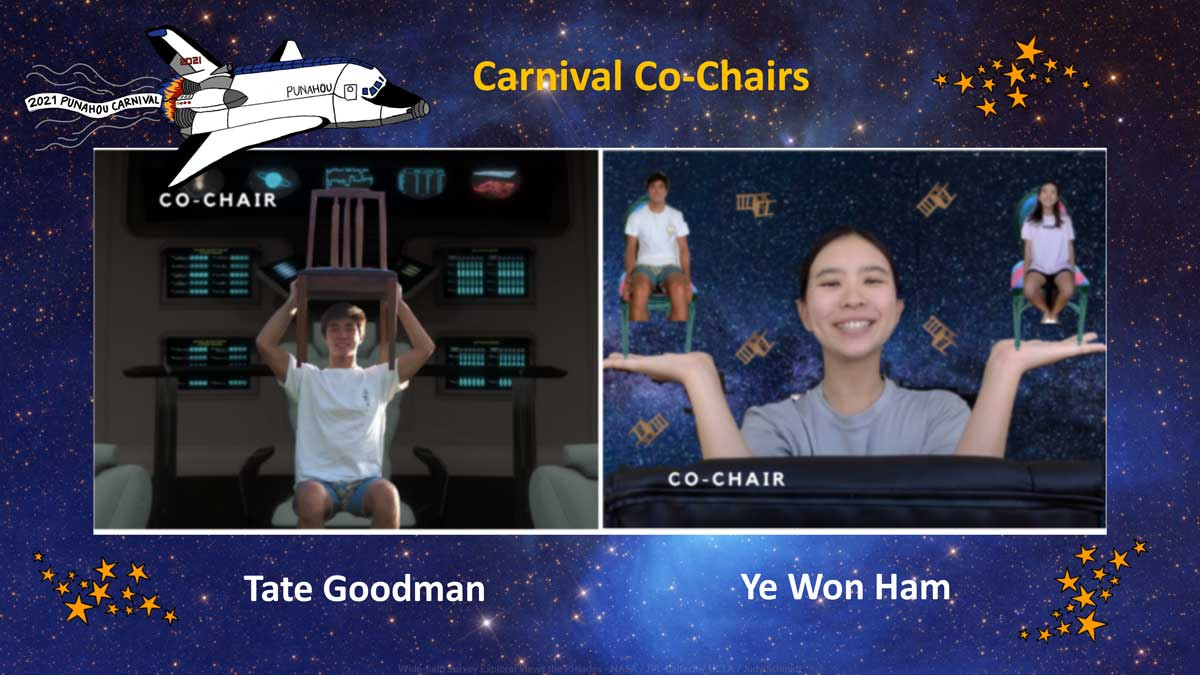 Administrative Division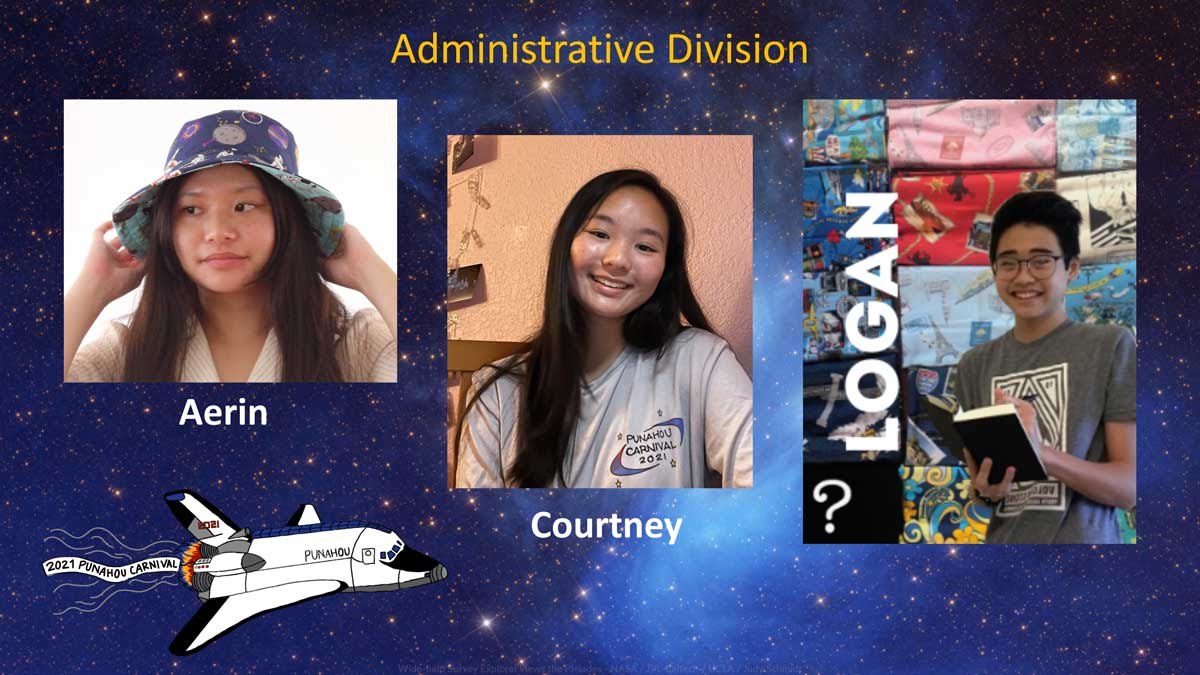 Silent Auction
The Silent Auction will take place online this year with a contactless drive-through distribution for Oahu-based members of the Punahou community. It will feature gift certificates, products, services and creative experiences, such as online cooking or painting lessons. Proceeds will enable Punahou School to continue providing need-based financial aid, especially as the the pandemic has impacted our community in a myriad of ways.
T-Shirts and Materials
Specially designed Carnival fabric, t-shirts and other items were created to celebrate this year's space theme and will be distributed during a contactless drive-through pick up on Feb. 6 and 8, for Oahu-based members of the Punahou community.
Food Division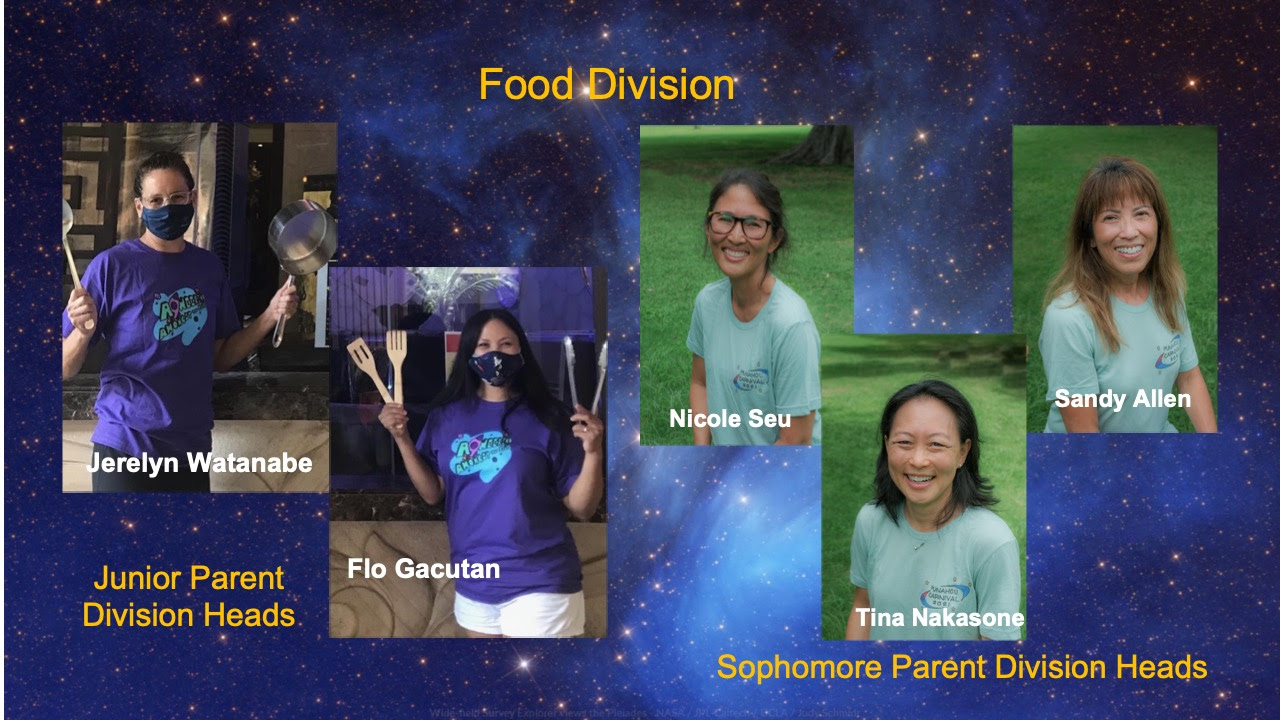 The Food Division cooked up an opportunity for Oahu-based members of the Punahou community to enjoy their favorite Carnival foods. Malasadas, gyros and Portuguese bean soup, mango chutney and lilikoi butter were sold online for contactless drive-through pickup on Feb. 6 and 8. In addition, the Food Division will supply fresh food at the drive-in movie event on Feb. 5 and 6. Teri-burgers, gyros, and vegetarian noodles will be among the offerings. Junior School students will also have the opportunity to enjoy Carnival favorites for lunch during Carnival week, cooked by Punahou's cafeteria staff.
Skills and Games Division
This year's cosmic Carnival games will be available for all Junior School students to participate in during the weeks leading up to Carnival. Students will be able to play Basketball, Ring Toss, Golf, Menehune Strongman, Frogs in the Lilypond and Fish Swish.

There will also be an on-campus Scavenger Hunt for students in kindergarten through fifth grade and a donation-based Splat Trap available during the drive-through distribution event for for Oahu-based members of the Punahou community on Feb. 6 between 10 a.m. – 3 p.m.
The Skills and Games Division also will debut Interstellar Games, Carnival 2021's Online Gaming Tournament Booth. Interstellar Games will be hosting one of today's most popular video games, Among Us, set in space, for Academy students to enjoy.

The Skills and Games division is also putting on a drive-in movie event for Oahu-based members of the Punahou community, with two shows each on Feb. 5 and 6, complete with food delivered to cars. The this year's pre-recorded Variety Show, put on by the seniors, will be shown as part of the drive-in movie and also online.
The Variety Show, "Tiers for Fears," follows Punahou Class of 2021 seniors from the moment they find out about the pandemic through planning a Variety Show. Resilience and talent abound as seniors dance, sing and act while adjusting to changing tiers of social distancing and new guidelines.
Specialties Division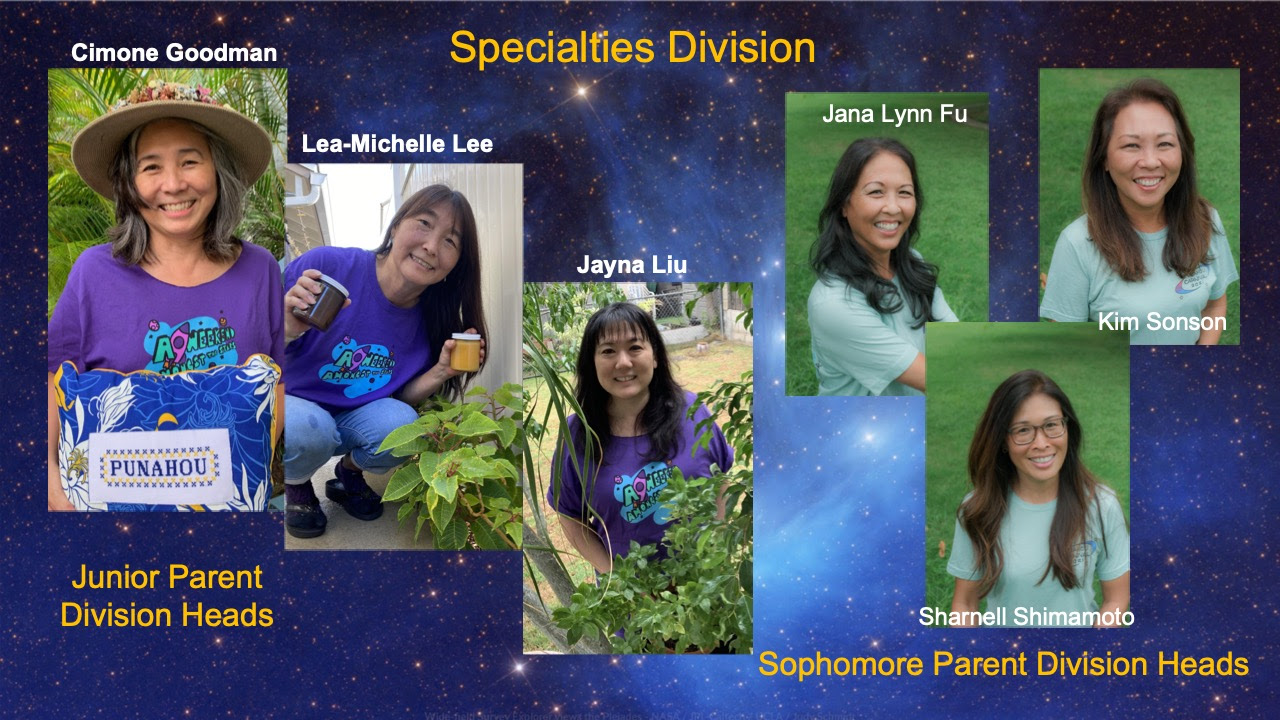 Art Gallery
The Art Gallery is available online this year for all members of the O'ahu-based public to enjoy. The virtual opening takes place Monday, Feb. 1 at 6 p.m. The gallery will stay open for viewing and purchases until Saturday, Feb. 6 at 11 p.m. Art pieces will be available for contactless drive-through pick up on Saturday and Sunday, Feb. 20 – 21.
Plants
The plant sale took place online for members of Punahou's O'ahu-based community with a contactless drive-through pickup on Feb. 6 and 8. Among the plants for sale were ones propagated and cared for by Punahou students.
Jams and Jellies
Mango chutney, lilikoi butter and red pepper jelly were sold online to Punahou's O'ahu-based community with a contactless drive-through pickup on Feb. 6 and 8. Students gathered the 3,000 pounds of mangoes needed to make chutney in the summer and Director of Food Services Marcia Barrett '74 Wright and the cafeteria crew made over 11,000 jars of jams and jellies.
Haku Lei
Experienced lei makers will carry on the long-standing tradition of creating beautiful haku lei. Haku lei will be made available for sale online to Punahou students with drive-through pickup.
Body Painting
Pivoting from in-person face painting, the booth sold "space-tacular" metallic and glow in the dark temporary tattoos, which parents could order for students, perfect for wearing to the drive-in movie.
White Elephant Division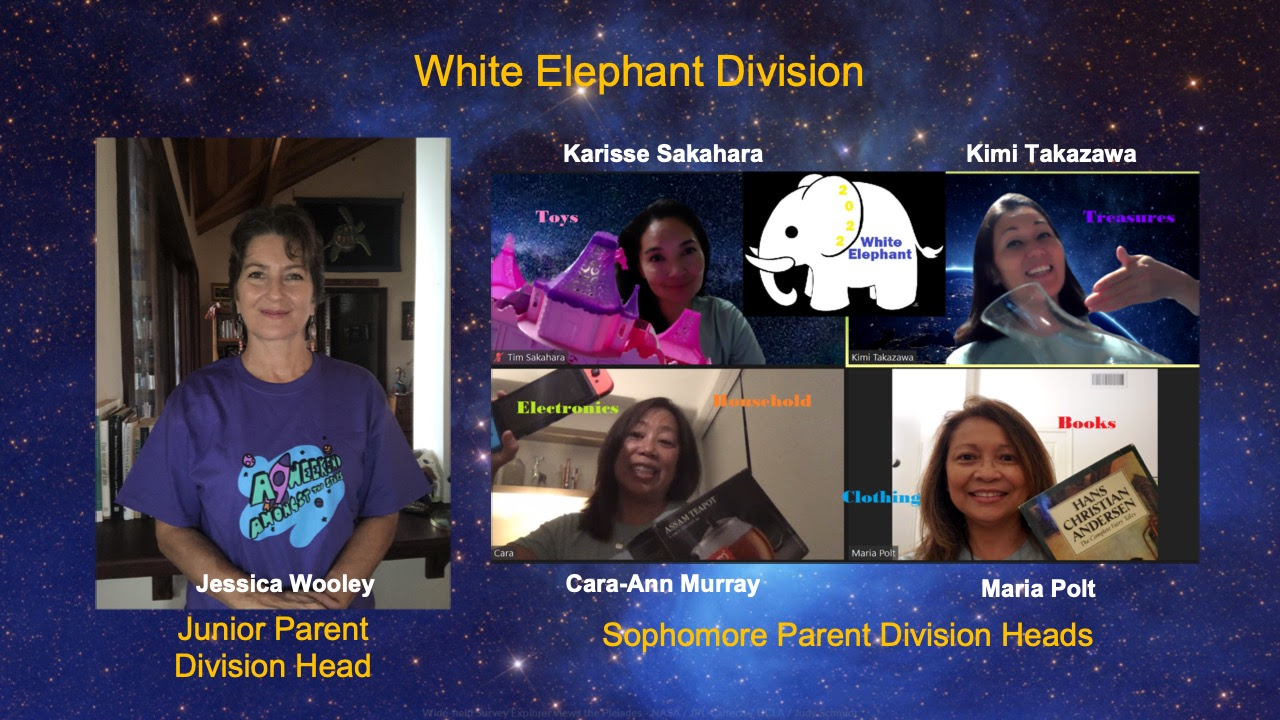 The White Elephant booth created an online store for O'ahu-based Punahou community members to find treasures, homemade crafts, toys, housewares and books, which will be distributed at a contactless drive-through pickup on Feb. 6 and 8.
The White Elephant division is also spearheading a community service component to Carnival this year for all of Punahou's global community to take part. People can celebrate Carnival by doing an act of service, such as picking up trash at the beach or helping an elderly neighbor, and sharing their act on an online Kudoboard.
They are also coordinating and producing a Healthcare Worker Appreciation video. To thank healthcare workers for their work during these difficult times, the booth is compiling a video of members of the Punahou community saying thank you
"Although we weren't able to work in the Tank this year, the White Elephant division reimagined its booth and we are ecstatic to announce the online White Elephant sale and community service opportunity," said one student leader.
Giving Mission
Now in its 89th year, the Carnival continues to support students, just as it did in 1932. "While Carnival will be different this year, the Class of 2022 still hopes to raise the necessary financial aid funds to support the students of Punahou," said Carnival Co-Chair Ye Won Ham '22. To support that effort, Punahou launched a Giving Mission to raise $220,000 and beyond, the equivalent of 20 financial aid awards of $11,000. The Giving Mission runs Jan. 19 – Feb. 6.